Why Oyo-Idiroko axis is notorious for smuggling – FOU boss
By Ray Ugochukwu 
It has been revealed that the major reason the Oyo-Idiroko axis has become synonymous with smuggling activities in recent times is because most people in the area regard the illicit trade as a legitimate business.
Controller, Federal Operations Unit (FOU), Zone A, Nigeria Customs Service (NCS), Comptroller Usman Biri Yahaya, made the assertion recently at a media chat in Ikeja, Lagos, while showcasing seizures made by his Unit in the last three months
He added that it was this wrong notion that had given rise to the unrelenting activities of smugglers in the area despite the huge losses they suffered on regular basis in the hands of anti-smuggling operatives of the Customs.
Yahaya
He, however, made it clear that his men were ever ready to counter the hoodlums' antics in whichever form they tried to carry out their nefarious activities despite the confrontations officers usually encountered with them.
Yahaya assured that the Customs had all the wherewithal to checkmate the activities of the smugglers.
In his words, "From the foregoing, you will all agree with me that smugglers are undaunted in their nefarious activities to cripple the economy. With the magnitude of the seizures showcased in our last press briefings, one would have expected a reduction in their activities.
"Nevertheless, we have the capacity and the capability to render smugglers in this zone miserable. Whatever is the driving force behind their activities, we will continue to make it unprofitable for them.
"We have been having confrontations with smugglers especially in volatile areas like Oyo and Idiroko axis where smuggling is considered a legitimate business. However, such confrontations will never deter our operatives from carrying out their statutory responsibilities.
"I urge smugglers must desist to engage in smuggling activities for us to have a decent society. There are many legitimate businesses that will earn them a good living. A word, they say, is enough for the wise".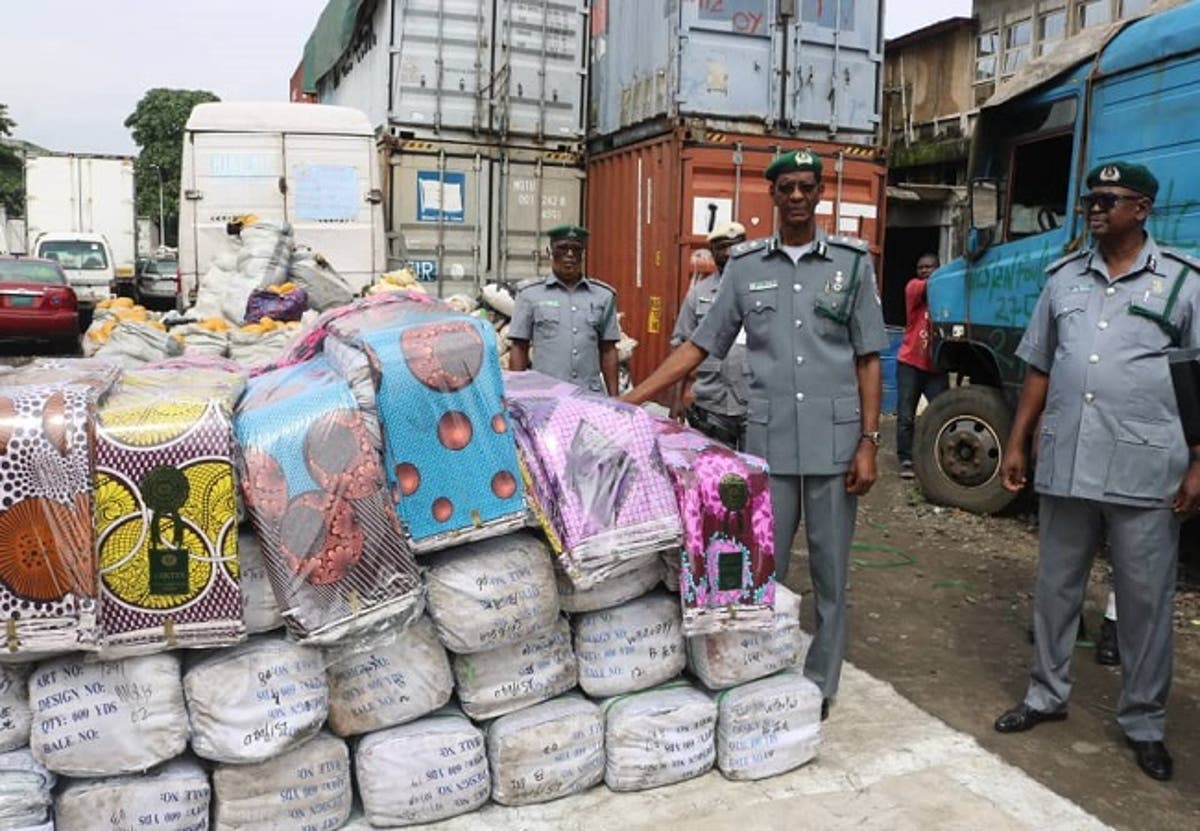 Some of the contraband impounded by FOU
The Unit made a record144 seizures with a Duty Paid Value (DPV) of N 3.3 billion and 23 arrests between April 21 and July 14, 2021.
The Controller gave a breakdown of the items as 14,789 bags of 50kg of parboiled rice; 727 cartons of unregistered drugs; 2,784 cartons of frozen poultry products; 28 units of used vehicles and 116,000 litres (4,640 jerry cans) of PMS (premium motor spirit) otherwise known as petrol.
Others are 237 bales and six sacks of secondhand clothing; 20 cartons of Tramadol; 885 pieces of used tyres and 10,400 cartons of alcoholic beverages in four containers.
Also seized are 84 different kinds of vehicles laden with 50kg bags each of smuggled rice; 5x20ft containers of rough and semi-processed wood, among severa other goods.
On the 23 suspects arrested, Yahaya disclosed that 12 had secured Administrative Bail, while 11 were still in Customs custody.