New NAGAFF President to unveil agenda Monday, Nov 1
By Ray Ugochukwu
 All is now set for tomorrow's official inauguration of the new executive council of the National Association of Government Approved Freight Forwarders (NAGAFF), led by its new National President, Hon. Tochukwu Ezisi.
Recall that the immediate past Exco headed by Chief Increase Uche was sent packing by the National Executive Council (NEC) a month before its tenure expiration following what informed sources attributed to alleged anti-association acts by the former National President.
Of importance with tomorrow's event is the agenda of the NAGAFFnew helmsman, Hon. Ezisi, the wealthy business man, who was unveiled during his last birthday celebration by the Founder, Dr. Boniface Aniebonam, in Apapa on October 5, 2021.
Ezisi
NAGAFF sources told Seabreeze News that one expected area of focus of the new leader will be the putting up of a befitting national secretariat of the 21 years old association. They give thumps down to the past leaders of the association whom they alleged never saw a befitting edifice for the group as a priority.
It was gathered that close to N20 million has already been realized towards the project courtesy of Hon. Ezisi as part of activities marking his birthday event early this month.
The Agulu, Anambra State, born business man is said to be very passionate about having a national secretariat for NAGAFF, a dream sources say, would take him about two to three years to achieve.
In addition, according to sources, the frontline freight forwarder will also be focusing on strengthening the operations of the 100% Compliance Team of NAGAFF for ease of business for freight forwarders, particularly, his members.
The choice of a successor to Chief Increase Uche was spearheaded by a five-man top NAGAFF team mandated by the association to find out who would "carry the big masquerade" as orchestrated by the Founder, Aniebonam. Over the years he has been worried that there had been a fruitless search for who would pioneer the affairs of the freight forwarding body as he is easing himself out of both business and politics.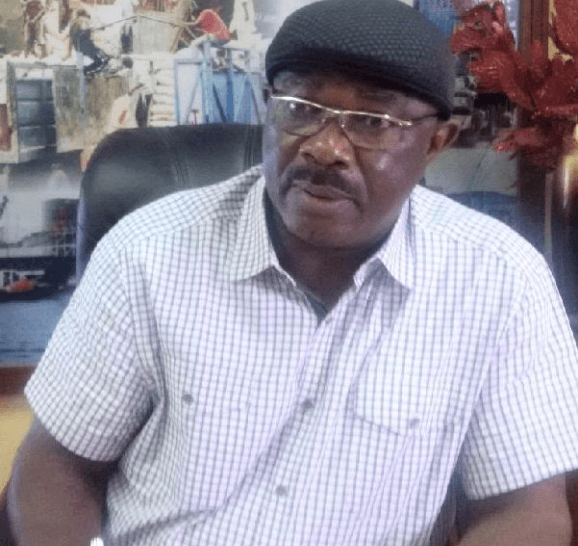 Aniebonam
It was gathered the team, after a very long search, came up with a five-man list that got eventually pruned down to two – Alhaji Ibrahim Tanko of 100% Compliance Team and Hon. Ezisi. Sources revealed that the latter was finally picked as the former was considered to have already had his hands full.
Seabreeze News learnt that when the news was broken to Ezisi, an engineer by profession by the Founder, he did not hesitate to accept the responsibility and assured him of his preparedness to "carry the big masquerade".