Why SON should urgently return to ports – Farouk Salim
Agency destroys over N1b substandard goods
By Ray Ugochukwu
The continued influx of fake and substandard products into the country has made it imperative for the authorities to strongly consider a return to the sea ports of the Standards Organisation of Nigeria (SON), so thinks the boss of the agency, Mallam Farouk Salim.
Salim expressed the opinion recently in Lagos while showcasing to news men substandard electric cables, engine oil, LPG gas cylinders, stuffed new tyres, inferior and unapproved cigarettes as well as low-grade roofing sheets worth over N1.0 billion meant for destruction.
Salim
The SON Director-General lamented the continued absence of the agency at the ports, saying that such goods could have been intercepted on arrival at the terminals to pre-empt their finding the way to the Nigerian market.
He wondered why citizens of the country would connive with foreigners to bring in dangerous items that could harm their own people and the economy, in the name of making wealth.
"I am unhappy that a few Nigerians, sometimes in collusion with foreigners, continue to endanger the lives and properties of our people in the quest to amass wealth, thus affecting our nation's economy negatively.
"The products slated for destruction today include substandard electric cables, engine oil, LPG gas cylinders, stuffed new tyres, substandard and unapproved cigarettes and substandard low-grade roofing sheets worth billions of Naira", he said.
He observed that there were good Nigerian firms that produced the best of the products in question but regretted that still unscrupulous business men still got bent on importing fake and substandard things.
In his words, "Some manufacturing companies in Nigeria boast of the best quality electric cables and engine oil, but some unscrupulous people continue to import and distribute low grade, substandard and life-threatening versions of these products in our markets.
"The dangers posed by these goods to the lives and properties of Nigerians, even if they are new, cannot be quantified. We will continue to say "no" to fake lubricants that knock motor and industrial engines which in turn lead to vehicle failures, leading to road mishaps and avoidable downtime in industries and consequential job losses. The engine oils seized were either faked in the names of superior brands or concocted without the mandatory conformity assessment for quality assurance.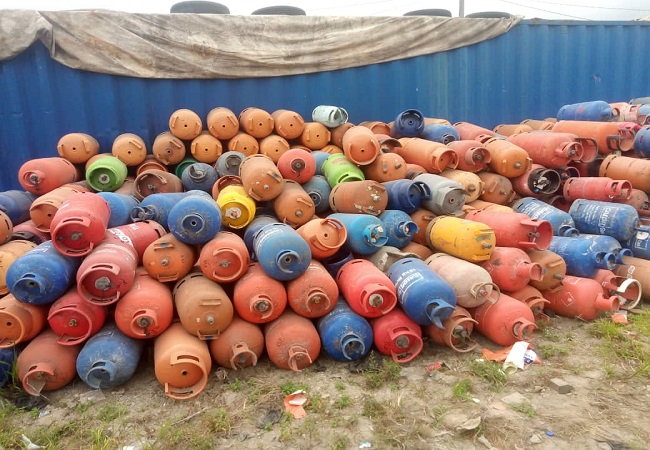 Some of the impounded substandard cylinders
He added, "SON, in collaboration with relevant stakeholders, has developed very stringent regulations for the production, importation and distribution of such products as LPG cylinders, cigarettes and automobile tyres, yet we still have unpatriotic Nigerians and their collaborators bombarding us with the worst versions of these products in the name of doing business. They will continue to have SON to contend with and we shall not relent in apprehending them wherever they may be hiding, seizing their products and destroying them.
The impounded substandard goods were later destroyed by the agency's officials at outfit's Amuwo-Odofin warehouse, with the supervision of Director-General.
Stuffed tyres on display